National Institute of Biology (NIB)
print
---
National Institute of Biology (NIB), Večna pot 111, Ljubljana
---
Access by bus
Bus no. 18 (Kolodvor – Center Stožice): When you arrive at the main railway and bus station in Ljubljana, walk to the bus stop Kolodvor positioned in the same area. There you enter the bus with Urbana card and drive to the Faculty by taking bus number 18 (direction Center Stožice) . Get off after 6 stops at the Živalski vrt ZOO stop. When you get off the bus, turn right and go to the first pedestrian crossing. Cross the road and continue walking in that direction for about 200 m; NIB is the first building on the left.
Access by car
From the Ljubljana Ring Road: On the ring road take the exit »Ljubljana Brdo« and drive on the Cesta na Brdo until you come to the first crossroads with traffic lights, where you turn left in the direction of the ZOO. Continue to the next crossroads and turn right onto Večna pot. After 300 m you will see on your right a sign for National Institute of Biology (NIB), which is where NIB is located as well.
From the Centre of Ljubljana: Coming from the centre, from Cesta 27. Aprila and Večna pot. Drive until you see the ZOO on your right. The NIB building is located 200 m further ahead on the left.
Parking for guests is available before the ramp or at the ZOO.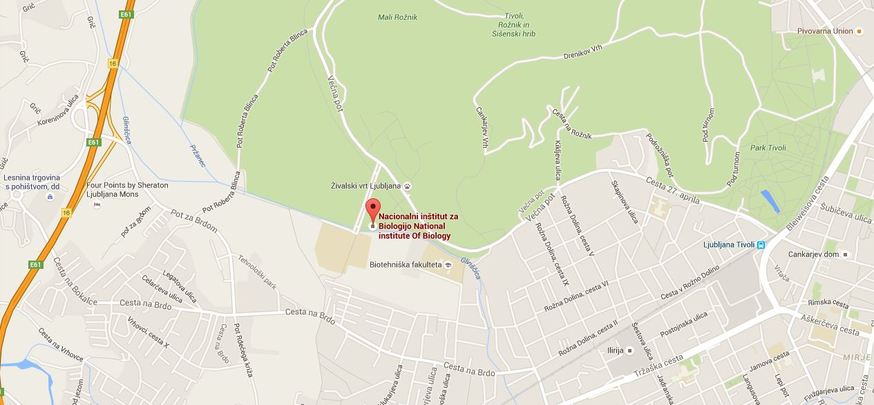 Anketa - podoba raziskovalcev