Nature Reserve Iški morost
print
---
Iski morost Nature Reserve is located north of the village of Brest on the Ljubljana Marshes.
---
Access by car
The reserve can be reached from the direction of Ig, Podpeč or Črna vas.
From Ig direction the reserve is easily accessible by asphalt road, which leads from Brest to Podpeč. At the bridge over the Iška River leave the vehicle and continue on foot on the dirt road on the left or right side of the river in the direction of its northward flow. The path from the paved road to the entrance to the reserve is approximately 1,300 meters long (20 minutes walk).
From Ljubljana direction drive through the Črna vas towards Podpeč, and as soon as you drive over the bridge across the Iška river, turn left onto a gravel road. On the road, which runs along the left bank of the river Iška, continue for two kilometers. Start of the learning path is the wooden bridge over the Iška river on the left side.
Access by bus
By city bus
The vicinity of the reserve can be reached by bus Barje – Jezero; you get off at the stop "Lipe" at the guesthouse Kolišče. From here you follow the dirt road on the left bank of Iška, upstream. After 30 minutes, or two-kilometer walk respectively, you will reach a wooden bridge across Iška, which is the beginning of the path through the reserve.

By Intercity bus
The reserve can be reached by an intercity bus, which runs between Ljubljana and Iska Loka. From the main bus station in Ljubljana you drive to the station in the Here you turn to one of two dirt roads, that follow the flow of the river to the north. After one kilometer walk you will reach the wooden bridge across Iška. Here, on the right bank of the river begins Kosec nature trail that leads through the reserve.
Acces by bike
The reserve is cross by marked cycling path that branches off from Črna vas to the south. In the middle of the way to Brest, you will notice the signs that point you to the nature path through the reserve. Here you leave your bike and hike the trails. From the south the reserve is accessible from Brest and Tomišlja.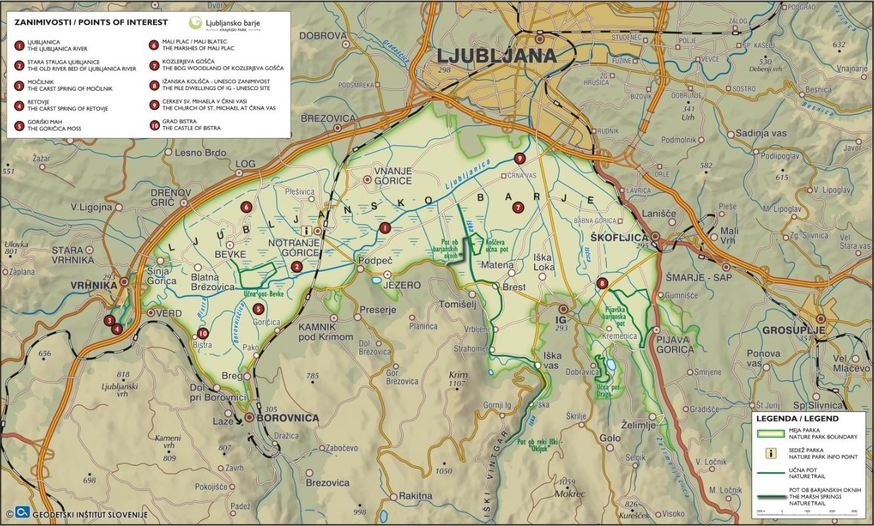 Anketa - podoba raziskovalcev