Demonstration of basic resuscitation procedures using an automated external defibrilator (AED)
print
Location: Bevkov Square / Bevkov trg (in front of the Nova Gorica Centre of Culture), Nova Gorica.
Time: 9:30 - 20:30
A licenced first aid instructor of the Slovenian Red Cross Slovenia (the Nova Gorica Association) will demonstrate basic resuscitation procedures using an automated external defibrillator (AED). You will learn how to help rescucitate a victim of cardiac arrest and have the opportunity to practise your newly-acquired skills on a resuscitation training manikin, using a training defibrillator. Through the demonstration you will thus learn how the developments in technology and science can help us save lives.
At the stand you can also obtain the information on various other programmes of the Slovenian Red Cross.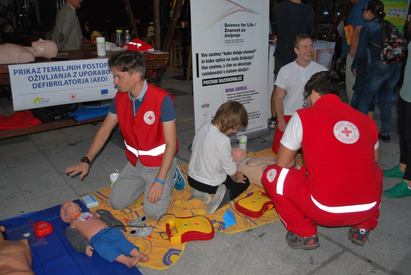 Additional information:

Anketa - podoba raziskovalcev